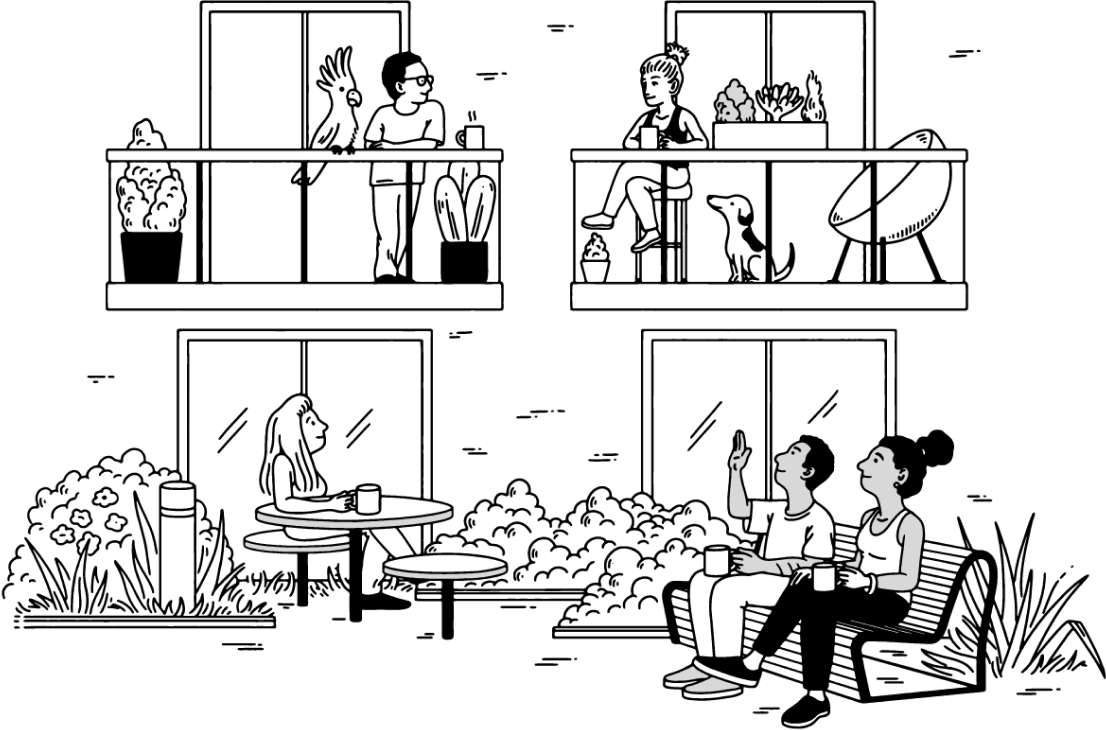 Becoming an Occu resident
Out with the old, in with the new. Forget everything you know about renting; it's a broken model. This is the new way. Easy, seamless, flexible, honest, built around you, no fuss, no faff and next-level service.
Becoming an Occu resident
Why Occu?
We aim to make renting like it always should have been – transparent pricing, next-level service, superb interior design and we'll let your pets move in too.
Our developments are focused around the real needs of our residents, with all the little touches that simply make renting better. All you have to do is move in.
1
/
4

How much rent can I afford?
Use our calculator to help narrow your search for your new home. Enter your total household monthly income after tax:
Disclaimer: Information is provided for illustrative purposes only
It does not constitute a contract. We will not record or use the information quoted by you in this calculator. The results are based on 40% of the inputted figure. Certain assumptions have been made when calculating these amounts including (1) the inputted total household monthly income after tax is calculated based on basic salary only, (2) the inputted total household monthly income after tax is an accumulative sum for all earners and (3) tax deductions and credits are accurate.
Becoming an Occu resident
Transparent pricing
We're transparent in our approach to renting, and it's very important to keep affordability in mind when looking at our locations. That's why we've created this handy calculator to help you find your perfect Occu home.
2
/
4
20%
Thrifty
If you spend around 20% of your income on rent, you could generally spend more on non-essentials or save more. However, spending about 20% on housing when you're earning a regular income means you'll have to keep your distance from certain locations and consider sharing, especially in some locations. But if you're the type of person who doesn't mind making a compromise or two to save some money on rent, 20% can be a good option for you.
30%
The sweet spot
Spending around 30% of your income on rent is the golden rule when you're trying to figure out how much you can afford to pay. Spending 30% of your income on rent can help you reach a healthy balance between comfort and affordability. On a median income, 30% should get you a house or apartment you can truly call home. At the same time, you should have money left to keep up with any debt you may have and contribute to your savings.
40%
A splurge
It can be very tempting to spend more on rent, especially if you think you've found the perfect home. If you earn an above-average income, allocating 40% of it for an apartment should get you a rental in a better location or more living space. But keep in mind that shelling out 10% extra each month comes with its risks. It's always smart to keep an eye on your spending habits, set and track budgets for day-to-day expenses. We cannot approve any applications above 40%.
Original source: RentCafé. Reproduced with permission from Yardi Systems Inc.
Becoming an Occu resident
Wondering
about housing affordability?
Our affordability calculator will provide you with the maximum amount of rent that our leasing team can approve you for. How much actually you're comfortable with or able to pay towards rent is a personal decision and will depend on many factors. The guidance below offers some suggestions to help you with your search for your new home
Disclaimer: This information is provided as a guideline only.
Applicants should evaluate their finances carefully before signing a lease on a new home. For further information on housing affordability and managing your finances, applicants are advised to visit The Housing Agency website or the MABS (Money Advice and Budgeting Service) website.
3
/
4
How to apply
The important stuff
Everything you need to know about applying to live with Occu is in this handy document to download. Get information on what to do before you apply, all the way through to becoming an Occu resident.
Occu Application Guide
4
/
4